Skam (2015-2017) - It's a wrap.
That's right you guys. Are you ready for one final edition of behind the scenes pictures? Are you ready to see the actors celebrating the end. Crying about the end? Hugging each other about the end? I don't think I am. I'm typing this edition with tissues next to me, so yeah. Here we go
Edit Note: I postponed this edition so I would be able to include the event on Friday, so I wouldn't have to make 2 seperate versions. There will also be a special "Skam News - Finale Edition" coming out soon.
And that's a wrap on the cast of Skam
At some point two weeks ago now, Julie probably said that. The cast finished filming episode 4x10. In doing so they managed to keep it a secret that the final episode would have several POV. So round of applause for the skam team. Skam 1, Jodel 0.
And of course it wouldn't be skam if such an important moment wasn't celebrated. And our cast wouldn't be the cast of skam if they didn't document for us to obsess over people moving through the shot and blurry cameos in the background. So without further ado, the pictures of the wrap party. (Note: Not all of them are included, I chose some highlights)
Det er fest
And since SKAM is one of NRK's most succesfull shows, they couldn't end it without throwing one more final party themselves. The press was also invited, which is an event in a series of rare media-appearances, aside from Skavlan, Gullruten and some radio interviews. 
Below are some highlights from the press line, mainly the interview by NRK's very own outlet, which includes the cast answering questions we, the fans, were able to ask them.

We learned a lot from the off-screen girl-squad. The cast all cheered when Iman came onto the stage, and that is well deserved. Now that Skam has ended, Iman is going to serve in the military. About acting, she said the hardst part was when Sana was angry and that she couldn't often smile. She said she felt relieved when the script said "Sana smiles." As a challenge she was asked to peel carrots, which she did succesfully :)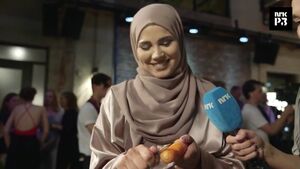 Josefine predicted the future of her character Noora, saying she hopes William & Noora are still together. She opted for travelling around the world over them having kids, and Noora would probably be a journalist in 5 years time.
Ina took the time to thank the fans for all the support. She had said Season 1 is her favorite season, and that as the show grew, people have come up to them, most recently on a school trip to Berlin.
Ulrikke said she was sad that it was ending, and she mentioned she cried on the final day of filming. In a game of FMK, she would marry Noora and kill William. She said in several years, Vilde might be a teacher at Nissen. 
Lisa looked stunning at the event too, dressed in stunning blue. Later on at the event, when the iconic 'Fy Faen' came on she was front-row dancing with Marlon. 
Iman also got congratulations for carrying the season so well, and she said she was glad because she never acted before. On the message of the season, she said she hopes people in Norway (and outside of it) learned something, and she said it was an honor to portray that character and tell that story.
The boys also gave us their two cents about what we can expect from the future, both in-character and for the actors themselves. 
Marlon said that skam ending is a bit weird, because it was something he spent so much time on. He confirmed that some people do indeed think he is Jonas. And Marlon is officially team Jova (Jonas & Eva). 
Henrik mentioned the audition process for the role of Even, mentioning the Natural Connection with Tarjei which made their scenes easier because they were comfortable around each other. The opposite can be said about filming the karaoke scene, because as Henrik he would never have the guts to sing in front of so many people. He spoke about the challenges of portraying a storyline like Even's, and that they had to be careful not to overdo it or make it a parody. He said there would have been more to Even's story, and when asked to predict a future he said Even and Isak would still be together, and they'd be happy. They would have the full package, maybe adopt a kid and they would have good jobs.
Sacha missed the event because he was in Spain. We didn't get to see an interview with Tarjei but we saw plenty of him at the party dancing and singing along after a few drinks. He also took a picture with Siv (Henrik's mom) in which the caption called him her 'son-in-law'. How precious!

The balloon squad also weighed in their opinions, mainly expressing their proud over the S4 storyline because positive representation in the media for Muslims and the Islamic culture is very much needed. Many of the squad's favorite scene was Fy Faen, and to compliment that they carried balloons to the event. Cengiz also talked about filming the Maghrib scene, which lasted until 2AM and they didn't get the script until several hours before.
Carl mentioned his favorite season was season 3, because of its message. He supports a Kollektiv-spin off, and he is now also aware of the Eskilias-ship. 
Frederik, who portrayed Niko in Season 2 also attended, as well as some other guest stars such as Theresa (Sonja), Celine (Iben) and Laila. Of his time on Skam, Frederik said it was fun to play a villain, and he mentioned the backlash wasn't as hard as he expected. In a game of FMK he went all shakespearean and he killed William, marry Even and fuck Isak. 
A general reaction about the reason for Skam's success was that the show is very relatable, for people of all ages, because it's a story about discovering yourself. The cast also went around recalling catchphrases such as 'kødder du'
The rest of the night turned into a real party, with artists performing iconic Skam songs such as Fy Faen, Vi er perfekt men verden er ikke det, 5 fine frøkner and more. Ulrikke did the splits on stage, Tarjei and Marlon danced around adorably holding hands.
Bloopers? Extra footage? Pictures?
And then there is all the extra stuff we want to see.
Bloopers were shown at the event on Friday, and they were shown season by season. Through the grapevine it's been mentioned that we might get an HD release of the bloopers, but it looks like we might have to wait a little bit.
Instagram-pictures were also among the things which we knew there was an access amount of. Thanks to Mari's motivational picture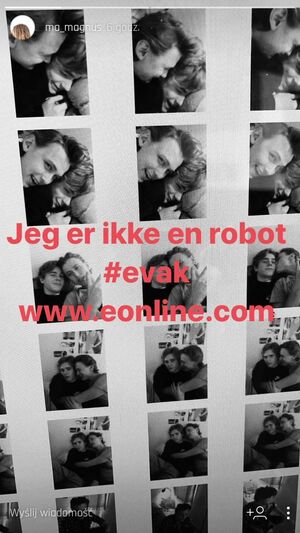 we knew there was an Even & Isak photoshoot out there, which was used for some of Isak's instas. And Mari came through for us with the remaining ones!
Some of the other remaining instagram pictures were used as part of episode 4x10 in the form of 'throwbacks' or videos that the cast made were included in the final part of the episode during the speech.

And that is officially a wrap on "Skam News - Wrap Edition" Don't worry, it's not the end of Skam News, nor is it the end of a night full of tears.
As always, Alt er Love. - Taya
Ad blocker interference detected!
Wikia is a free-to-use site that makes money from advertising. We have a modified experience for viewers using ad blockers

Wikia is not accessible if you've made further modifications. Remove the custom ad blocker rule(s) and the page will load as expected.