''Sure I can take a week off from Skam News. Surely nothing exciting will happen''. BOY WAS I WRONG. May 12th will go into the history books for the skam fandom, as we felt all the emotions a person could probably feel in the span of a few hours. I'm still not recovered? Are you? Too bad, cause here's your (bi-)weekly update on the skam fandom.
When they're not filming skam…
Henrik seems to seek out nature. He met some (very young) fans and took some pictures with them.
Ulrikke continues to empower women all over the world on instagram.
Cengiz sings 'Descpacito' on top of the opera house in Oslo.
Iman sends love to her castmates, especially after the latest clip of 4x05. She clarified that Josefine is not Noora and that Cengiz is not Yousef. The message is to not send hate to the actors for what their character does, and I fully agree with that.
Ina and Carl both took to instagram to express their emotions about episode 405. Carl had a single-tear emoji at Sana seeing Noora and Yousef. Ina captured a picture of the Sana/Chris hug and pusted on instagram:
Instagram is lit!
Recently the Instagram account 'skkamm' has been making some amazing edits with skam, juxtapositioning some scenes into a different setting. You should go check out the account, it's giving a lot of AU-vibes which have inspired some fic-writers as well
Also on insta, Isak reached 700k followers. Pretty sure that before/after picture may have had something to do with that…
Re-analyzing of the trailer
As the season progressed, many fans have pointed out that the trailer (which was already a reversed butterfly effect started by Sana, and which featured back-to-front audio) might be reversed in a third dimension. Cemented by Isak bleeding instead of Even, many people believe that the 'storylines' from the trailer will also be reversed. Let's take a look at what that would mean.
Sana tripping Noora --> Sana helping Noora (getting over William) as seen in 4x04

Could also be interpreted as: Sana hurting Noora

Noora hurting Sana by kissing Yousef
Noora breaking Vilde's pearls --> Noora elevating Vilde's social status by becoming the new bus-leader (as mentioned by the girls in the bathroom in 4x05)
Eva falling (for/due) to Vilde --> Vilde falling for Eva (potentially romantic, in the widely popular theory that Vilde is a lesbian who is overcompensating her relationship with Magnus)
Eva spilling a drink on Chris --> Eva drinking and partying with Chris (as seen throughout S4)
Even getting hit by someone from the girl squad --> Isak getting hit by someone from balloon squad (as seen in 4x05).
Lots of theories are possible, and the trailer isn't always exactly literal but it's worth mentioning that some of these scenarios seem very very similar.
Midseason hiatus!
Episode 4x05 (and the clip that made us feel all the feels) marked the end of the first half of Season 4 and skam is now on a 10-day midseason hiatus. To clarify this means :
No text updates
No clips
No instas
On the 22nd of May a clip will come out in real time again, so as if it was May 22nd.
The filming pictures we couldn't reveal
Remember when I didn't include pictures in the filming overview? Guess what.
Those images were from the fight scene in 4x05. These images are from 2 weeks ago, which means they didn't film that scene that long ago (hence some production errors that slipped in, due to time pressure). But now we can release them. Yay!
The Two Happiest Guys In Bergen - The Gullruten saga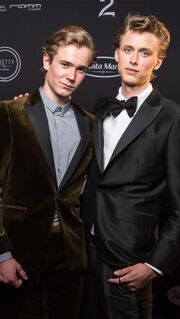 Throughout the week photos appear of Tarjei & David shopping for outfits at Gullruten. Excitement because after last year's epic girl squad entry, we're going to see the boy squad. But it seems so far off, and a bit surreal. Like they mentioned at Gullruten, the skam cast are like rare unicorns. These days they're being hunted by obsessed international fans. Seeing them at an award show is surreal.
Then the first pictures from rehearsals leak, followed by pictures of the boys in Bergen, sightseeing? Hell, why not. And then came the suits. Dark green velvet for Tarjei, nice black suit for Henrik and red/grey for Marlon, David and Sacha. My evening was made (so I thought).
Then came red carpets and if you were on the VGTV-livestream, you could relate to the fangirling by Morten, who basically walked by all of Norway's biggest starts in the TV-business, asking everyone if they had seen the skam boys. And then they were there, smiling and giving and interview and it was awesome. Henrik told us that Tarjei is a good kisser, even wondering where he got the skills. Tarjei countered by saying 'It's not hard to pretend to be in love with a character he plays' about Henrik. Both boys commented on how they were sad about the ending, and how strange it would be. The importance of their storyline, and how their "natural connection" (there, I said it) plays out off-screen were also mentioned. What we got from that is that Henrik & Tarjei need to hang out more. Which, they did after the award show but that comes later.
Onto the actual award show which took place a few hours before airing on TV. Skam's international fame got mentioned within the show's first 5 minutes. Then came the awards, including Best TV Drama, which Valkyrien won, and not Skam. The Skam group did get to get on stage when Skam won TV-moment of the year for "O Helga Natt". The boy squad (Marlon, Tarjei, David, Sacha and Henrik) also took the stage to hand out the best actress award. It's male counterpart, best actor, didn't go to Tarjei but to well-deserved competition (as far as I know anything about Norway's actors, haha).

When the time came to announce the audience award, Tarjei was literally jumping down the stairs before taking the stage with Henrik and thanking Julie (who was busy with S4), the fans, friends and family and their amazing castmates. You could really feel the love between these guys, as they truely are each other's biggest fans. That became pretty clear on one particular moment of the night, when a heart-shaped camera zoomed in on Tarjei & Henrik in the audience, kiss-cam style. The two did a joined eyebrow raise (We're doing this? Jup, we're doing this) and they kissed, not holding back much on national television. And everybody loved it!
It took mere minutes for the moment to be giffed, screenshot and shared all over social media, and the amount of love that the fandom expressed was amazing. Not just because some people like to put the term 'good buddies' in quotation marks, but because a lot of people felt like it showed these two are comfortable enough to do that. Neither one of them made a problem out of it, both of them saying that they "occasionally show up to make out" throughout season 4 and that they don't have a problem with the kissing in a previous interview. It was iconic.
The boys then took back to the hotal where they celebrated under the supervision of an alcohol-supervisor for the minors. But let's be honest, that person probably didn't do the greatest job of all... The squad took to social media to celebrate their victory before watching the show when it actually aired on tv, cheering themselves on as they won and celebrated (kisscam and all). They sang Fy Faen, they partied, they danced, and they were the happiest guys in Bergen.
Which is what Henrik used as a caption on his instagram the next day, as he took a picture with Tarjei. The boys went up to see the view over Bergen and they lounged around the city a bit more, presumably heading back home to Oslo throughout the weekend. You can see an overview of the wins and nominations of Gullruten 2017 awards here.
Hartvig Nissen
Many people congratulated and celebrated Skam (and Tarjei & Henrik)'s wins at Gullruten, but one particular set of congratulations stood out. It came from Hartvig Nissen, our favourite in-universe school which Tarjei & David also attend in real life. Proud of its students, the school took to facebook to congratulate them.
"
Hurray and congratulations to the entire crew of Skam, who won several awards at Gullruten yesterday. Aside from Skam having created the impression that teachers at Nissen don't wear bras, it is an honor for us that Hartvis Nissen is associated with this fantastic universe Julie Andem and NRK have created.

And when a student winss a Gullruten awards, it is acceptable to go a little 'Aunt Gerd gives a toast at the wedding: So, dear Tarjei. We are so proud of you! Your Isak slips under the skin of the most thick-skinned TV-viewers, and you deserve all praise and honor for everything you've done with this character. And even if you've now become everybody's Skam-Tarjei, for us you'll always be Nissen-Tarjei. Therefore, we hope you have been informed of the exam draw that was announced Friday, and that you remember the oral test in social studies next week (chapter 6, 7 and 8 in Fokus). Once again, congratulations!

"
— Hartvig Nissen on Facebook
What many fans seemed to find hilarious is the fact that the school gave a little reminder of the upcoming exams. Norwegian's school system is a little bit difficult to explain to give you context, but it was a funny little piece of info they stuck in there.
Ask Cengiz
After reaching 10K followers on twitter, Cengiz decided to do an #AskCengiz, with some guidance of fans. Here are some of the Q's and A's:
Fav character in Skam? Sana and Vilde
What's it like to work with Iman? It's fun! She's a good person, she helps me when I was 'the new guy' on set
How did you and your family end up in Norway? My grandfather cam to Norway for a job in the oil-industry, so my father came there too. I was born in Norway
Do you pray every day? Try my best to do it, yes
Can you do a video on how to pronounce 'cengiz'? Like djengiz khan
How many children do you want? 3
Who's your favourite singer? Justin Bieber, Bruno Mars and many others
How did you meet Maiken (his girlfriend)? In a dance school here in Drammen
Favourite school on Netflix if u have one? Breaking Bad and more haha
What are you studying? Marketing and sales leading
Would you like to start a career as an actor? Maybe
What was your main reaction when you found out you were acting in Skam? It was kind of weird
You love Russian fans? Yeah!
Favourite actor and actress? Johnny Depp, Leonardo DiCaprio, Will Smith
Dogs or cats I NEED TO KNOW? Dogs
Do you like Moana or what's your favourite Disney character? Frozen for now
Where do you see yourself in 10 years? I don't know…
How did you get your role on Skam? Headhunted via Herman Tommeraas (They're close friends)
What's your fav country? Turkey
What's the most difficult thing to do when you play Yousef and do you like playing his character? It's difficult to show feelings for Sana when you don't have those feelings for a person but I love a challenge.
Jodeling (no not the Eurovision kind)
Lastly, Jodel is a thing in Norway. If you don't know what it is, google. I can't exactly explain it. But Jodel is especially a thing when Tarjei Sandvik Moe takes a stab at it. He has been on Jodel before, but he deleted the app (as he stated in tonight's post). He posted 3 jodels:

"When everyone thinks you have a girlfriend, but you don't."
"I actually deleted the app (jodel) but I had to take a look."
"Enjoy yourselfves with the gossip, I'm out now."


Take that as you may. I'll leave this edition of Skam News on that cliffhanger ;)
- Alt er Love & We'll always have May 12th Taya
PS: Yes, this is the longest version of Skam News Ever, and it's roughly the combined length of all previous editions together. You're very welcome :)
Ad blocker interference detected!
Wikia is a free-to-use site that makes money from advertising. We have a modified experience for viewers using ad blockers

Wikia is not accessible if you've made further modifications. Remove the custom ad blocker rule(s) and the page will load as expected.