Halla!
Time to recap the past week in the skam universe. And let me tell you, a lot of stuff happened
Filming Update!
First of all, I will state that certain filming spoilers won't be posted here, because they reveal too much of the upcoming plot. After Marlon & Henrik commented on instagram how spoiling isn't cool and ruins the story, I think the fandom would benefit more from it if we keep the surprise.
That said, they did film a lot this week. Here's what I can say:
They filmed a scene with a large part of the cast (including the balloon squad) this week at the riverside near Bakka. Filming on Saturday also took place at Nissen. For those of you not aware, school scenes are usually filmed on Saturday and the students walking around in the background are extras. As for confirmed cast that was seen filming there was Iman, Tarjei, Henrik and 5/5 Balloon Squad boys.
Marlon's instastory showed him, Tarjei, David, Henrik and Iman grabbing something to eat, presumably after filming. The day afterwards, Josefine posted a video in which Ulrikke & Henrik were talking about whales (don't ask). Also there were Lisa (Eva) and Laila from Pepsi Max.
Nominations and Awards
Give this show all the awards! No seriously, Gullruten, are you listening? Give Skam all the awards, okay. 
I mean they already kind of did, when Julie Andem won best writing & best directing for skam. 
On top of that, Skam is still nominated for Best Drama, and Tarjei is nominated for Best Actor. Additionally this week Skam got 2 more nominations: TV moment of the year (O Helga Natt) and the Audience Award (Tarjei & Henrik). You can vote here and here
Fanart
In this edition of Skam News I also want to give a shoutout to Elli_skam. She is a creative genius whose fanart inspired Julie for the scene with the boy squad in 4x01. You can find her instagram here: https://www.instagram.com/elli_skam/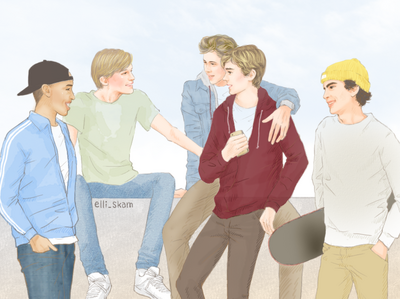 Considering Julie recently started following this account, many fans are hopeful to see some of the other drawings come to live as well. Maybe not the one with Yousana and their 12 children, though.
Narrative focus
Also this week, a lot of people in the fandom expressed their concerns about how the narrative focusses. Many people stated that the focus seems a bit off-center on Sana. However many people quickly stated that it is in fact in line with Sana's character, who often doesn't focus on herself either. She focusses on her friends more, and that's why we're seeing more of those storylines in there.
This seems to be something that calmed down the claims that the season is going downhill, althought the general consensus is still that more focus on Sana wouldn't me minded at all. And I fully agree with that statement. 

That's all for this week's edition of Skam News.
Remember to stay kind, and alt er love.
- Taya
Ad blocker interference detected!
Wikia is a free-to-use site that makes money from advertising. We have a modified experience for viewers using ad blockers

Wikia is not accessible if you've made further modifications. Remove the custom ad blocker rule(s) and the page will load as expected.