Halla guys! 
Apologies for the delay but this weekend I spend a lot of time creating the timelines for S1, S2 and S3 and so I figured with the special edition for the trailer I could afford to be just a tiny bit lazy and post this edition with one day delay.
S4 filming
Let's start off with the weekly filming update. We know pretty certainly that skam filmed on Friday at the karaoke bar, and on Saturday at Nissen. Filming also apparently took place at the time the S4 trailer was released. Marlon, Tarjei, David, Henrik and Ulrikke were all seen together on instastories.
They're celebrating too!
S4 is finally here and the cast is celebrating just as much as we are. On Saturdaynight, Ulrikke hosted a small party with other castmates. Among them were Josefine, Yousef, Cengiz, Henrik, Herman and Tarjei. Josefine and Ulrikke also went back in memory lane by posting an instastory earlier on the night of them watching season 1 together. I wonder how many times they have watched the show themselves…
Sorry for the horrible quality in the next few pics
Also, I'll leave you with this adoable picture of Josefine with Ulrikke's kitten.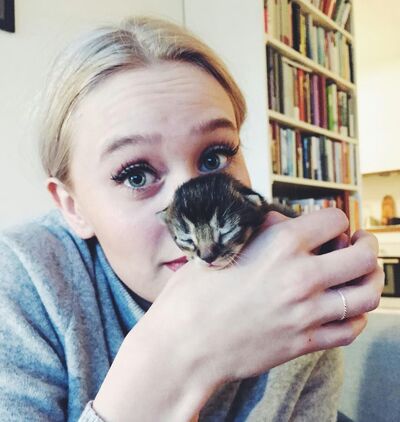 No more Ostkant/Vestkant
I think we can all breathe again and stop cringing now that Tarjei has dropped out of O/W. While we're fully supportive of his career and future projects, many fans already noticed a string of bad signs about the project from the beginning. Towards the end of Tarjei's involvement in the project, many people from the crew seemed to be using Tarjei's fame from skam to promote their project, take endless pictures & videos of him and let's not shy away from calling it taking advantage. Truth is, Tarjei's acting isn't limited to what he's shown on Skam. And whatever project he takes on next, we're sure he will do amazing. But he needs to be with a project where he feels good, where his acting is valued and where he is being treated with respect. Ostkant/Vestkant didn't seem to be doing that, so I'm glad he made the decision to leave he project.
Kosegruppa DK @ Ett Bord
The people over at Kosegruppa DK proved once again that they are amazing fans in their latest visit to the Norwegian capital.
They basically gave Siv an award and I think I can speak for all of us when I say she totally deserves it. The people at Kosegruppa DK are also genuinely so nice you guys. My interactions with them so far have been nothing but pleasant. Go check them out on Facebook (& join if you want. It's very 'kose' :p)

Right now I'm going to rewatch that pizza scene a few more times. Until next week guys. Alt er love. - Taya
Ad blocker interference detected!
Wikia is a free-to-use site that makes money from advertising. We have a modified experience for viewers using ad blockers

Wikia is not accessible if you've made further modifications. Remove the custom ad blocker rule(s) and the page will load as expected.