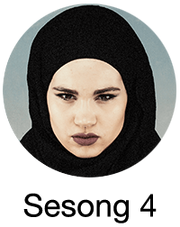 Season 4 is the fourth season of Skam. It aired in the spring of 2017 and featured Sana as the central character. It was announced in the trailer that it would be the final season.
Plot
This season revolves around Sana and her religion. Sana's beliefs are tested when she starts to like her brother's friend, Yousef, which turns out into a forbidden love because he is not Muslim, like her. Sana also deals with the russ bus, and the involvement in Pepsi Max who want to join with them. Sana also tries to help Noora get over William, but doesn't speak up when Noora shows interest in Yousef.
Sana is seen juggling all these parts of her life until they all clash together on one day. She faces the aftermath of an altercation between her brother and his friends versus Jonas, Mahdi, Magnus, Even and Isak, who gets hurt during it. Pressured by her desire to fit into Norwegian culture more, Sana gathers evidence of Sara's malicious habits and creates an Instagram hate-account, the repercussions of which also affect her friends. Things get cleared up as Sana confesses, and Noora is revealed to have tried to get Yousef and Sana together. Sana admits to her mom that she likes Yousef and goes on a date with him.
The final episode of the season shows other character's struggles such as Vilde's emotional and financial home situation, Chris' desire to prove himself a worthy boyfriend for Eva, Jonas new relationship with Emma and his old relationship with Eva, Chris struggles to be there for her friends as someone to talk to, Even's self-worth and his perception on his relationship with Isak in which they face homophobic comments, William's struggle under the pressure of his dad to return to London, and Eskild and Linn's prospects upon a future without Noora living at the kollektiv. The season (and series) closes with an Eid-celebration at Sana's house, where they all celebrate their friendships and the love they have spread in the face of hatred.
Cast and Characters
Main Cast
Recurring Cast
Minor Cast
Episodes
Season Four Episodes
#
Image
Title
Duration
Original airdate
1
"Du hater å henge med oss"

(English: You hate hanging out with us)

25 min
April 14, 2017
Sana struggles with being a practicing Muslim and hanging with her friends, specially Vilde discussing her sex life. Sana and the rest of the girls goes to a party with Sanas brother Elias and his friends, Yousef, Mikael, Adam and Mutta.
2
"Jeg er en gutt, jeg får ikke hat"

(English: I'm a guy, I don't get hate)

18 min
April 21, 2017
Sana shows interest in Yousef, her brother's friend, and gets protective when Noora also shows interest. The girls get a lead on a bus for the Russ celebration. Sana and Vilde want to buy, but Noora thinks it is too expensive.
3
"Hva mener du om drikking?"

(English: What is your opinion on drinking?)

28 min
April 28, 2017
Yousef helps Sana prepare dinner and they get to know each other better, and start flirting. Sara and Ingrid asks Sana if they are interested in combining their bus crews, and Sana has to host a bus meeting. Even has a question for Sana.
4
"Allah hadde digget deg"

(English: Allah would like you)

20 min
May 5, 2017
Noora reveals the truth about her breakup with William, whereafter Sana brings her along to meet new guys. Elias gets completely smashed, so Yousef calls Sana for help. On the way home, Yousef and Sana share some deep religious insights.
5
"Hvis du er trist er jeg trist"

(English: If you're sad, I'm sad)

30 min
May 12, 2017
Sana suspects that Sara is hiding something from her. Sana's mother is worried about her recent behavior, which Sana finds very irritating. Elias then reaches out to Sana and gives her some advice. Everyone gathers for a karaoke party.
6
"Har du en dårlig dag?"

(English: Are you having a bad day?)

20 min
May 26, 2017
Sana is furious about recent revelations, which is really getting to her. She tries to discreetly come up with a way to get revenge, but keeps getting distracted in her surroundings. Isak then tells her a story, which gets her attention.
7
"Vi må stå sammen"

(English: We have to stand together)

30 min
June 2, 2017
Sana is having a hard time dealing with her feelings towards Yousef. She initiates a social media war, creating turbulence and disunity within the bus group. A surprise awaits Sana at home. Sana and Isak have a discussion.
8
"De største loserne på skolen"

(English: The biggest losers in school)

30 min
June 9, 2017
Sana becomes increasingly anxious about telling the girls the truth behind the Instagram account. By accident, she tells Chris the truth, whereafter Sana becomes devastated. Eva hosts a birthday party, which takes an interesting turn.
9
"Livet smiler"

(English: Life is smiling)

40 min
June 16, 2017
Sana worries about Noora being off radar with William. Noora encourages Sana to make a move on Yousef.
10
"Takk for alt"

(English: Thank you for everything)

59 min
June 24, 2017
Vilde has to take care of her mother. Eva and Penetrator Chris are making out in Eva's bed. Penetrator Chris tries to ask her out, but she rejects him. Jonas is dating Emma, but doesn't want to tell his friends. Chris wants to help Vilde out because she suspects that Vilde is having issues at home. She talks to Dr. Skrulle, and she motivates Chris. Even is trying to prepare the perfect birthday for Isak. William and Noora go on a date together while they're trying to write a speech for Sana. Eskild and Linn are afraid that Noora might move in with William. Sana hosts an Eid-party and invites all of her friends. Jonas makes a speech for Sana.
Timeline
See Season 4/Timeline for the full timeline for this season
Season 4 spanned from April 10, 2017 until June 24, 2017.
Media
Images
Video
Music
| Song | Artist | Scene |
| --- | --- | --- |
| None of dem | Robyn | Sana is in the bus looking out of the window and she sees the guys. She gets alerted by her phone's prayer app. |
| Chewing Gum | Annie | The girl squad eating pizza |
| The Next Episode | Dr Dre (feat. Snoop Dogg) | Sana in the apartment, with her brother and his friends. |
| Hot in Herre | Nelly | Gym scene |
| Fy Faen | Hkeem ft Temur | Sana's brother and his friends arriving at the train station, meeting the girls squad. |
| Aloha | Møme feat. Merryn Jeann | Girl squad and balloon squad on their way to the party |
| Nostalgi 3Millioner | Tomine Harket, Unge Ferrari | Sana sees Yousef and Noora. |
| Best Friend | Young Thug | Closing Credits |
| Song | Artist | Scene |
| --- | --- | --- |
| I Feel It Coming | The Weeknd (feat. Daft Punk) | Yousef dancing and lip-syncing in the living room, with Sana watching. |
| Straumnes | Sigur Rós | Sana looking at pictures of Yousef. |
| No Long Talk | Drake (feat. Giggs) | The Pepsi Max gang appearing by the bus. |
| U-Rite | They. | The girls squad facing the Pepsi Max gang, moving over to the girls squad listening to Sana about how to get the money. Closing credits. |
| Song | Artist | Scene |
| --- | --- | --- |
| Siste Gang | Bendik | Sana peeling carrots. |
| Power of Money | Yo Gotti | Sana googling for finacial aid. |
| Kiss Me | Ed Sheeran | When Yousef enters the kitchen while Sana is peeling carrots. |
| Tuesday | Burak Yeter (feat. Danielle Sandoval) | Sana and Elias making the girls leave their house. |
| Sjeiken 2015 | Tix & The Pøssy Project | Party at Sana's home |
| It's a Sin | Pet Shop Boys | Closing credits |
| Song | Artist | Scene |
| --- | --- | --- |
| Dear Mama | 2Pac | |
| Can't Tell Me Nothing | Kanye West | Drunk Elias at Noora's share house. |
| Gunerius | Karpe Diem | Sana and Noora drinking tea. |
| Into the Woods | Fay Wildhagen | Sana and Yousef talking about religion |
| Gunerius | Amanda Delara | Sana and Yousef playing basketball. |
| Suedehead | Morrissey | Closing credits. |
| Song | Artist | Scene |
| --- | --- | --- |
| Straumnes | Sigur Røs | |
| HUMBLE. | Kendrick Lamar | Sana playing basketball alone. |
| Now and Later | Sage the Gemini | Beginning of the karaoke event at the bar. |
| Imagine (Instrumental) | Lars Andreas Aspesæter | Even singing karaoke while Isak and everyone else joins in. |
| New Level | A$AP Ferg (feat. Future) | Sana walks outside to see the Boy Squad and Balloon Squad fighting. |
| Iconography | Andre Bratten | Sana washes Isak's blood off her hands. |
| Love Will Tear Us Apart | Susanna and the Magical Orchestra | Sana waits for the Pepsi Max girls that talking about her to leave the bathroom and later sees Yousef and Noora kissing |
| Everywhere You Go | Mari Kvien Brunvoll | Closing credits. |
| Song | Artist | Scene |
| --- | --- | --- |
| Mývatin | Dreyma | |
| Ikke Snakk Til Meg | Merone | Sana is crossing the school yard to see the Girl Squad. |
| Sheriffen av Rotterdam | Geir Sundstøl | |
| Frode Haltli | Flashing | |
| Islam People and Power | Radiodok. BBC | |
| En Haters Begravelse | Lars Vaular | Sana texting Isak if he wants to study with her. |
| September | Gabrielle | Sana visits Isak and Even at their apartment. |
| Hot N*gga | Bobby Shmurda | Sana goes through Isak's text with Sara. |
| III. Life: The Biggest Troll (Andrew Auernheimer | Childish Gambino | Sana watches a conversation betwen Isak and Sara. Closing Credits. |
| Song | Artist | Scene |
| --- | --- | --- |
| One Dance | Drake (feat. Wizkid and Kyla) | Sana and Yousef playing basketball. |
| Röyksopp Forever | Röyksopp | |
| Berghain 2016 | Kudos | |
| Straumnes | Sigur Røs | |
| Jeg Vet | Siri Nilsen | End of Sana and Isak's conversation |
| Song | Artist | Scene |
| --- | --- | --- |
| Håper du har Plass | Cezinando | Sana goes through her old photos of the girls. |
| Havana | Kjartan Lauritzen | Eva's birthday party. |
| Don't Worry (Maria Helena Remix) | Madcon (feat. Ray Dalton) | Everyone dancing at Eva's birthday. |
| Our Youth | Sonny Alven (feat. Emmy) | Sana and Noora talking on the bench together. |
| Into the Woods | Fay Wildhagen | Sana reading the text message conversation between Noora and Yousef. |
| Who Gon Stop Me | Jay-Z (feat. Kanye West and Mr Hudson | William and P-Chris arriving at the party. |
| We're Back | DMX (feat. Eve and Jadakiss) | Closing Credits |
| Song | Artist | Scene |
| --- | --- | --- |
| I Feel it Coming | The Weeknd (feat. Daft Punk) | At the end of Sana's prayer. |
| F*ckgirl | Martin Masarov (feat. Nicoline) | William and Noora come out of his car. |
| Youm Wara Youm | Jonas Benyoub | Sana goes to the yard |
| Vi er Perfekt Men Verden er Ikke Det | Cezinando | Sana and Yousef hug. |
| Vi er Perfekt Men Verden er Ikke Det | Astrid S | |
| Song | Artist | Scene |
| --- | --- | --- |
| Straumnes | Sigur Ros | |
| Pretty Hurts | Beyoncé | Vilde putting on her make-up. |
| Love, Lay Me Blind | The White Birch | Vilde tells her mother that she's going out with her friends. |
| Last Party | Mika | Beginning of the final clip |
| Lover, Where Do You Live? | Highasakite | Jonas wipes food off Eva's cheek. |
| Peace Train | Cat Stevens | Closing credits |
Production and Development
Sana was chosen as the main for this season in the fall of 2016.
Production started in the first half of March 2017
Production Errors
In 4x04, when Sana is on her computer checking the message from Yousef, the calendar says March 30th, instead of May 2nd. The next day, when talking to Noora at school, the date says March 31st instead of May 3rd.
In 4x05, when the boys are fighting there are some inconsistencies with Jonas. In one shot he is on the left, wearing a hat. In the other shot he is on the other side, with no hat on.

Note: The fight scene aired less than 2 weeks after being filmed so the editing for the fight scene was on a tight schedule.
Notes and Trivia
It was falsely stated that Vilde was the main character of Season 4.

Someone edited the caption of a photo, posted by Ulrikke Falch on Instagram, saying that she was the main character of season 4.[1]

Mikael, an old friend from Even in Bakka, appears in this season, along with other former friends of Even from Bakka.

He briefly appeared in the third season on a video that Isak was watching, which featured him and Even.
References