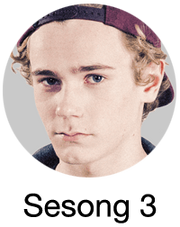 Season 3 is the third season of Skam. It aired in the fall of 2016 and featured Isak Valtersen as the central character.
Plot
The third season is focused on Isak Valtersen. The story deals with Isak's sexuality, as well as his relationship with Even Bech Næsheim.
Cast and Characters
Main Cast
Recurring Cast
Minor Cast
Episodes
Season Three Episodes
#
Image
Title
Duration
Original airdate
1
"Lykke til, Isak"
(English: Good luck, Isak)
27 min
October 7, 2016
Isak has to hide the drugs belonging to him, Jonas, Mahdi, and Magnus at Eva's party when the police arrive, and he struggles to get it back. The first year girl Emma, shows interest in Isak. Isak joins the school revue group.
2
"Du er over 18, sant?"
(English: You're over 18, aren't you?)
26 min
October 14, 2016
In class Isak tries to get his drugs back from Sana. Isak is crushing on Even, and tries to find out more about him. Emma, still interested in Isak invites Isak and the boys to a party at her apartment.
3
"Nå bånder dere i overkant mye"
(English: Now you're bonding too much)
22 min
October 21, 2016
After ditching the party and lying about it, Isak has to make amends with his friends and Emma. Isak is struggling to come to terms with homosexuality and his interest in Even. Vilde convinces Isak to hold a party for the school revue at his place.
4
"Keen på å bade"
(English: Keen for a swim)
20 min
October 28, 2016
Noora returns from London without William, and Isak is wondering how living conditions in the flat will be with four people. Even talks Isak into having a Halloween pre-party with him, his girlfriend, and Emma.
5
"Samme tid et helt annet sted"
(English: Same time in a completely different place)
30 min
November 4, 2016
Isak and Even spend time together and talk about their relationship. Isak has to answer to his friends for ditching Magnus' birthday that weekend. Isak and Eskild have a talk about homosexuality.
6
"Escobar season"
19 min
November 18, 2016
Emma is still angry at Isak, and Isak is not talking to Even either. Jonas reaches out and offers to talk with Isak about his issues. Because of sleep problems Isak decides to go to the eccentric school "doctor".
7
"Er du homo?"
(English: Are you gay?)
23 min
November 25, 2016
Even is sending Isak some confusing signals, and Isak asks Eskild for advice. Rumors that Isak might be gay are spreading through school. After coming out to Jonas, he encourages Isak to tell Mahdi and Magnus as well.
8
"Mannen i mitt liv"
(English: The man of my dreams)
30 min
December 2, 2016
Isak's dad wants Isak to answer him about going to a church concert with his mom and him. Sana reluctantly tries to tell Isak she was wrong in previous discussion. Even surprises Isak by booking a hotel suite for them.
9
"Det går over"
(English: It will pass)
18 min
December 9, 2016
After Even has a manic episode, Isak does some research on bipolar disorder. Issak struggles with getting in touch with Even. Magnus offers some good advice. Isak goes to a church concert with his parents.
10
"Minutt for minutt"
(English: Minute by minute)
33 min
December 16, 2016
Isak has to take care of Even while he is in a period of depression and get help from Eskild and the other flatmates. After Vilde's request, Isak hosts a Christmas party for the revue group.
Timeline
See Season 3/Timeline for the full timeline for this season
Season 3 spanned from October 2, 2016 until December 16, 2016.
Media
Images
Video
Music
| Song | Artist | Scene |
| --- | --- | --- |
| LiQr | Sandra Lyng | Intro scene at the party |
| Silver & Gold | Pieces of Juno | Isak and Emma make out in the bathroom |
| Smoke Bomb | Datsik (feat Snoop Dogg) | Isak returns to the party |
| Fuck tha Police | N.W.A. | Isak hides the stash |
| Panda | Desiigner | Isak is stopped by a cop while trying to sneak out. When the cop is distracted Isak runs to Jonas who waits for him with his bike down the street |
| Fredag | Kjartan Lauritzen | Kosegruppe meeting |
| Three-Way | The Magnetic Fields | Closing credits |
| Song | Artist | Scene |
| --- | --- | --- |
| C.R.E.A.M | Wu-Tang Clan | Isak and Eskild hang out in Isak's bedroom |
| The World Is Yours | NAS | Even's video interview scene |
| Talk Show Host | Radiohead | Isak watching Even on the schoolyard |
| Electric Feel (Justice remix) | MGMT | Boy squad after school |
| The Message | NAS | Isak and Even in Even's room |
| That Girl | Nils Bech | Closing credits |
| Song | Artist | Scene |
| --- | --- | --- |
| Someone Great | LCD Soundsystem | Isak takes "The Gay Test" |
| Grieg: Holberg Suite, Op. 40-Preludium | Marissa Jansons & Oslo Philharmonic Orchestra | Isak, Jonas, Magnus and Mahdi watch the dance chicks dancing |
| Neon Commando | Surferosa | Pregame at The Kollektiv while Isak and Emma are talking |
| Papi Chulo... Te Traigo El Mmmm | Lorna | Pregame at The Kollektiv |
| Call Your Girlfriend (Sultan & Ned Shepard Remix Radio Edit) | Robyn | Isak and Emma dance. Isak spots Even dancing with Sonja. |
| Lite Og Stort | No 4. | Credits |
| Song | Artist | Scene |
| --- | --- | --- |
| Sorry | Justin Bieber feat J. Balvin | Pregame at The Kollektiv before the halloween party with Isak, Emma, Sonja and Even |
| Head Over Heels/Broken | Tears for Fears | Isak and Even bike scene |
| I'm Kissing You | Des'ree | Isak and Even's underwater kiss |
| Koko Remix | Slick Posh feat Benny Fransen & Bob Dalton | Isak and Even exit the pool + credits |
| Song | Artist | Scene |
| --- | --- | --- |
| I'm Not In Love | 10cc | Isak and Even in Isak's bed |
| Sunday Morning | The Velvet Underground | Isak in his bed, smelling his pillow |
| Gikk I Bakken | Dårlig Vane | Pregame with Isak, Jonas, Magnus and Mahdi |
| Lift Me Up | Vince Staples | Isak, Jonas, Mahdi and Magnus on their way to Emma's party |
| Berghain 2016 | Brensel | Isak looks for Even at Emma's party |
| Hold My Liquor | Kanye West | Ending scene of Isak on the pavement + credits |
| Song | Artist | Scene |
| --- | --- | --- |
| Hate Me Now | NAS feat Puff Daddy | Isak walking into the schoolyard |
| Express Yourself | N.W.A. | Closing credits |
| Song | Artist | Scene |
| --- | --- | --- |
| Solo One | J Hus | Song Mahdi and Magnus are listening to when Isak and Jonas walk into the classroom |
| 7 | Arif feat Unge Ferrari | Background song duringthe conversation about Russ music |
| Local God | Everclear | Isak forces his friends to leave through the backdoor of The Kollektiv |
| Tonight | Lykke Li | Isak opens the door for Even and they make out. |
| Song | Artist | Scene |
| --- | --- | --- |
| Misread | Kings of Convenience | Kitchen radio song |
| 5 Fine Frøkner | Gabrielle | Isak and Even in the kitchen |
| II. Worldstar | Childish Gambino | Isak and Even walking to the hotel |
| High for This | The Weeknd | Elevator scene |
| On the Run (Part II) | Jay-Z feat Beyoncé | Credits song |
| Song | Artist | Scene |
| --- | --- | --- |
| Hjernen er alene | De Lillos | Isak is reading about mania and Eskild walks into the room |
| O Helga Natt | Nils Bech | Church scene with Isak and his parents. Continues to play as Isak has flashbacks of him and Even and ends when he gets to Even in the Nissen schoolyard |
| Song | Artist | Scene |
| --- | --- | --- |
| Lantern | The White Birch | Isak watches Even sleep |
| Girls Love Shoes | Benji Hughes | The dance chicks approach the boy squad |
| Conqueror | Aurora | Isak finds Even playing fifa with Linn |
| Home for Christmas | Maria Mena | The boy squad talking in the kitchen |
| Thank God It's Christmas | Queen | Credits |
Production and Development
Production Errors
In the beginning of the season Isak owns a Hewlett Packard computer (as seen in 3x02), but for the rest of the season he owns a Dell computer.
Similar to above, Isak switches from a black to a gold iPhone througout the season
In 3x01 when facetiming Noora, Eskild's thumb covers the bottom left of the screen when the camera is on the phone. However when he camera is on Linn, Isak and Eskild, his thumb is on the side. This is probably to hide the camera filming the phone, which would be visible in the 'selfie' part of the screen, which Eskild covers up.
Slight continuity error in 3x02 when it's still light out despite it being close to 8PM while later on during the pregame at The Kollektiv it is already pitch black at 7.30PM (however fall's rapid decline of daylight in the evening could be the cause of this)
In episode 3x06, Isak changes pants mid-schoolday: he wears black pants while walking onto the school yard, and he's wearing light pants when talking to Jonas at the lockers.
In 3x07 Isak finds a drawing from Even in his locker. He reads it, and then goes to fold it up. However as he is folding it, the piece of paper is blank unlike before when both halves of the paper had the drawing.
In 3x08, when Even is introduced to the boy squad, instead of saying Jonas, the actor who portrays him uses his own name, Marlon.
Notes and Trivia
Season 3 is the highest rated season of the series, and the most popular season internationally.
Season 3 along with season 4 has the shortest episode count with 10 episodes each.
Season 3 gave the series Skam 2 Gullruten awards.
The original manuscript for several episodes of the third season was bought by fans and donated in support of unicef.
References