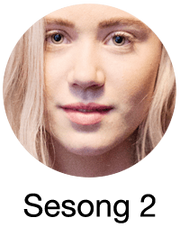 Season 2 of Skam aired in the spring of 2016 and featured Noora Amalie Sætre as the central character. 
Plot
The second season is focused on Noora and her relationship with William. The season also focuses on her friends and William's brother Nikolai Magnusson, as well as introducing life at the flat.
Cast and Characters
Main Cast
Recurring Cast
Minor Cast
Episodes
Season Two Episodes
#
Image
Title
Duration
Original airdate
1
"Om du bare hadde holdt det du lovet"
(English: If only you had kept your promises)
26 min
March 4, 2016
Noora and Vilde are in disagreement over sponsors for the bus. Noora's flatmates Eskild and Linn are introduced. Noora is trying to avoid William who has become very pushy in his advances towards her.
2
"Du lyver til en venninne og skylder på meg "
(English: You lie to your friend and blame me)
26 min
March 11, 2016
Rumors about her ex Jonas are spreading through school to Eva's dismay. Sana experiences hostility from some of the other Muslim girls at school. No longer can Noora avoid going on a date she promised William.
3
"Er det noe du skjuler for oss?"
(English: Are you hiding something from us?)
36 min
March 18, 2016
Noora tries to keep the fact that she and William had a date a secret, especially from Vilde. Christoffer and some of William's friends have been in a fight. William is hosting a large party in his apartment.
4
"Jeg visste det var noe rart med henne"
(English: I knew there was something strange about her) - (Easter Special)
15 min
March 25, 2016
During Easter holiday, Noora and the rest of the girls go to Chris' grandmother's cabin. On their way they meet a weird boy named Kasper. They also play with an Ouija board and Vilde believes Sana has supernatural abilities.
5
"Jeg er i hvert fall ikke sjalu"
(English: I'm certainly not jealous)
32 min
April 1, 2016
Noora is worried that she isn't caring enough about the Syrian refugee crisis. William and his bus crew are raising money they owe after trashing a cabin during Easter, and Noora calls him out on being egotistical.
6
"Jeg vil ikke bli beskytta"
(English: I won't be protected)
24 min
April 22, 2016
William's brother Nikolai has returned to Oslo, and Noora has problems with William not introducing her properly to him. The girls discuss the fact that Jonas has been beaten up. Noora and William see a strange meeting.
7
"Noora, du trenger pikk" 
(English: Noora, you need cock)
24 min
April 29, 2016
The russ celebration has begun. Noora is still keeping her and William's relationship secret from Vilde. Eskild takes on the case to find out if Isak is gay or not. The girls party with the third year boys in their bus.
8
"Du tenker bare på William"
(English: You only think of William)
41 min
May 6, 2016
William tries to explain himself to Noora after he was involved in the fight. Sana gives Noora some advice, and Noora decides to come clean to Vilde. While looking for William, Noora ends up at Nikolai's party.
9
"Jeg savner deg så jævlig"
(English: I miss you so damn much)
22 min
May 13, 2016
Noora wakes up nude in bed with Nikolai not remembering anything from the day before and suspects she has been raped. Sana's problems with some other Muslim girls get worse.
10
"Jeg skal forklare alt"
(English: I'll explain everything)
49 min
May 20, 2016
Eskild and Linn try to cheer Noora up, but she is still dealing with last Friday. Noora reluctantly goes to Eva to celebrate May 17th, the National Day. She also decides to confront Nikolai, to find out exactly what happened.
11
"Husker du seriøst ingenting?"
(English: You seriously remember nothing?)
30 min
May 27, 2016
Vilde visits Noora. Noora talks to one of the girls from Nikolai's party to find out the truth. William does not answer Noora's calls or messages and hasn't been seen at school.
12
"Vil du flytte sammen med meg?"
(English: Will you move in with me?)
50 min
June 3, 2016
Noora and William go back to William's apartment, and find a letter from the police. William is wanted for questioning for hitting a boy with a bottle during a fight. Vilde and Noora try to make sure no one is a witness against him.
Timeline
See Season 2/Timeline for the full timeline for this season
Season 2 spanned from February 29, 2016 until June 3, 2016.
Media
Images
Video
Music
| Song | Artist | Scene |
| --- | --- | --- |
| City of Satan | Turbonegro | Opening shots of Oslo, over into Nissen where Sara and Isak make out in the form room. |
| The Girl from Ipanema | Amy Winehouse | Noora in the kollektiv kitchen whilst cooking |
| Circle of Life | Elton John | Song in Eskild's room when Noora barges into his room |
| Gimme More | Britney Spears | Eskild with the girl squad in the Kollektiv kitchen |
| Bad Romance | Lady Gaga | Ending scene |
| Song | Artist | Scene |
| --- | --- | --- |
| Blue Monday | New Order | Jonas' reputation spreads across the schoolyard as he walks through it |
| New Dawn Fades | Joy Division | Jamilla walks across the schoolyard with her friends |
| The Hills | The Weeknd | William and Noora in the car on their date |
| I Never Loved This Fast Before | Tami Tamaki | Credits |
Song
Artist
Scene
Illest Motherfucker Alive
Jay-z & Kanye West
William and his friends exit the car in slow motion
Penetrators 2016
Hanzee
Song at William's party when Noora sees William
Galleriet 2015
ZL-Project
Song at William's party when Noora walks around and the cops show up
Love me
Lil'Wayne feat Drake & Future
Chris making out with the 2 girls
Love Is All Around
Wet Wet Wet
One of the songs Noora plays on the guitar
When You Say Nothing At All
Ronan Keating
One of the songs Noora plays on the guitar
More Than Words
Extreme
One of the songs Noora plays on the guitar
Credits
| Song | Artist | Scene |
| --- | --- | --- |
| Voodoo in My Blood | Massive Attack & Young Fathers | Intro |
| Super Evil | Watkin Tudor Jonas | Credits |
| Song | Artist | Scene |
| --- | --- | --- |
| Borders | M.I.A. | Girl squad walking to the penetrator party/fundraiser |
| Dancing On My Own | Robyn | Eva watches Jonas and Isabell, Noora sees William and Mari |
| Woops 2016 | Bek & Wallin | Party scene - Vilde talks to Noora and Eva. A drunk Eva makes her way to Jonas and Isabell. Eva clings to Isak before Noora pulls her away again. |
| East High 2016 | Tix & The Pøssy Project | Noora dumps Eva at Vilde and goes to find William. Eva and Vilde kiss. |
| Let It Happen | Tame Impala | William challenges Noora to look him in the eyes and tell him she doesn't like him |
| II Zealots of Stockholm | Childish Gambino | William leaves after Noora tells him she doesn't like him |
| Paradise | Goldplay | Noora and William Kiss |
| Love Me or Hate Me | Lady Sovereign | Credits |
| Song | Artist | Scene |
| --- | --- | --- |
| Bromancee | Egil Ellevill (feat Jack Dee) | Outro song |
| Song | Artist | Scene |
| --- | --- | --- |
| Sexy Boy | Air | Noora and William making out at school |
| Clumsy | Fergie | Noora and WIlliam making out in her bed |
| Våren | BODØ DOMKOR | Slowmotion scene of the girls arriving at the bus |
| Overdoze 2016 | ZL-project | Song during the party - Noora and William look at eachother across the room |
| Barricade | Axwell | Song during the party |
| Scary Monsters and Nice Sprites | Skrillex | Fight scene between the penetrators and the yakuza |
| Step It Up | DJ A-flash | Fight scene witnessed by the girls |
| Song | Artist | Scene |
| --- | --- | --- |
| Darlings | Susanne Sundfør | Noora and William meet up at the park |
| Because | Smerz | Song played during Niko's party |
| Peer Grynt - Suite No. 1 Op: Morning | Hollywood Bowl Orchestra | Outro |
| Song | Artist | Scene |
| --- | --- | --- |
| Kamikaze | Susanne Sondfør | Noora and William reunite (chemistry classroom scene) |
| Pray You Catch Me | Beyoncé | Credits |
Song
Artist
Scene
Grizzly Man
RocketToTheSky
William and Noora in Noora's bed
Fagert er landet
VOTE

Fagert er landet SCHOLA CANTORUM, FORSVARETS STABSMUSIKKORPS, THE STAFF BAND OF THE NORWEGIAN ARMED FORCES, INGAR BERGBY & TONE BIANCA SPARRE DAHL

The girls at the doctors with Noora.
Here I come
Fergie
Noora walks away after confronting Niko
Noe Bedre
Feit'N Fra Kolboton
Noora runs after William in the schoolyard, but William leaves. The girls comfort Noora
| Song | Artist | Scene |
| --- | --- | --- |
| One Minute Man (LP version) | Missy Elliot (feat Ludacris) | Noora and William talk. |
| Tonight, Tonight | Passion Pit | Noora calls Eva to tell her William left. William returns. Ending scene |
| Still D.R.E. | Dr. Dre (feat Snoop Dogg) | End credits |
| Song | Artist | Scene |
| --- | --- | --- |
| God Don't Leave Me | Highasakite | William and Noora making out in bed |
| Ingenting | Kamelen | Noora walking up to her friends |
| Si Ingenting | Kamel | Noora is reading and then texts the yakuza guy waiting for William |
| I Got A Feeling (Dave Guetta FMIF Remix) | The Black Eyed Peas | Party-scene |
| 2am (Matoma Remix) | Astrid S | Party scene - Noora, Eskild, Eva, Jonas and Isak talk + William and Noora texting |
| I Wanna Fuck You | Snoop Dogg (feat Akon) | Noora and William texting up on the roof |
| Our Youth | Sonny Alven (feat. Emmi) | William chases Chris out of the bedroom |
| Somewhere Only We Know (instrumental) | Sons of serendip | Noora and William sex scene |
| Forever Young | Alphaville | End of the party-scene. Isak's camera moment. |
| Young Forever | Jay-Z (feat. Beyoncé) | Ending scene + credits |
Production and Development
Production Errors
In 2x01 when Eskild meets the girl squad he takes his coat off before greeting them. However in the shots where he shakes Eva and Vilde's hand it is back on, and when he greets Chris and sits down at the table his coat is off again.
There are some continuity errors in the shots of Eskild holding the shirt in 2x05, when he's gathering clothes for the refugees. In most of the shots he is wearing the floral shirt, but in some shots pointed at Noora, you can see him holding a black top instead.
In 2x09, when Vilde explains what the note on Sana's locker reads, a microphone can be seen on the bottom of the screen.
In different scenes throughout the season, Noora suddenly no longer wears lipstick during or right after having kissed William.
When Noora and William leave the police station, Noora's bag is left at the bench as they walk off the scene.
Notes and Trivia
This season is the longest season with 12 episodes
References