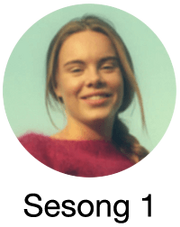 Season 1 is the first season of Skam. It aired in the fall of 2015 and featured Eva Kviig Mohn as the central character. 
Plot
In Season 1, Eva Kviig Mohn (played by Lisa Teige) is the main character. The action takes place in the fall of 2015 and Eva's friendship - Noora, Vilde, Sana and Chris - are the central characters. Much of the season is about Eva's and boyfriend Jonas's turbulent relationship
Cast and Characters
Main Cast
Recurring Cast
Minor Cast
Astrid Elise Arefjord as Dr. Skrulle
Marit Synnøve Berg as Eva's mother
Episodes
Season One Episodes
#
Image
Title
Duration
Original airdate
1
"Du ser ut som en slut"
(English: You look like a slut)
20 min
25 September, 2015
Eva is in her first year at school and has a falling out with her old friend Ingrid and Sara. She only knows her boyfriend Jonas and his friend Isak at school. She later decides to go to a school party, where she meets several new people.
2
"Jonas, dette er helt dust"
(English: Jonas, This is completely stupid)
17 min
2 October, 2015
During Fall holiday Eva, Jonas, and Isak go on a cabin trip. Eva is annoyed that her boyfriend invited Isak and later Elias to a trip that was supposed to be reserved for them. She also begins speculating that Jonas is keeping secrets.
3
"Vi er de største loserne på skolen"
(English: We are the biggest losers at school)
17 min
October 9, 2015
Back at school Eva befriends Noora in her Spanish class who she met at the party from episode one. Her, Noora, and Sana are invited by Chris and Vilde to join their Russ buss for when they graduate in 3 years.
4
"Go for it din lille slut" (English: Go for it you little slut)
15 min
16 October, 2015
Sana and Vilde want for Eva to get in touch with "Penetrator" Chris in the third year so that they can be invited to party on their Russ bus and gain more popularity around the school. In Chris's Russ group is William, the most popular boy in school.
5
"Hva er det som gjør deg kåt?"
(English:What makes you horny?)
19 min
October 23, 2015
Eva invites Jonas for dinner to meet her mom. Vilde is falling for William, and the girls visits the school doctor to get contraceptives because Vilde has decided she wants to lose her virginity.
6
"Man vet når gutter lyver"
(English:You know when a boy is lying)
23 min
October 30, 2015
Eva suspects that Jonas is cheating on her with her former friend Ingrid, and meets Isak to talk about it. Vilde reveals details about her and William. The girls go to a Halloween party Christoffer invited them to.
7
"Tenker alltid det er meg det er noe gale med"
(English: I always think it's me there's something wrong with)
20 min
November 13, 2015
After kissing Christoffer on Halloween Eva feels guilty, and asks Isak for counsel. Noora wants Vilde to stand up for herself and stop caring for William after he started ignoring her for other girls.
8
"Hele skolen hater meg"
(English: The whole school hates me)
24 min
November 20, 2015
Everyone knows about what happened on Halloween, and the entire school is gossiping about Eva. Jonas won't talk to her and on top of things Vilde finds out about her past. William starts to show interest for Noora.
9
"Man er det man gjør"
(English: You are what you do)
21 min
November 27, 2015
Eva gets a threatening letter, and Vilde decides to leave the bus crew. Eva is thinking about changing to another school, while trying to find out who wrote the letter.
10
"Jeg tenker du har blitt helt psyko"
(English: I think that you've become totally psycho)
21 min
December 4, 2015
The girls start to get worried something is wrong with Vilde. Eva talks with Jonas after not talking for a long time. The girls go to a Christmas party, and Eva decides to confront Isak.
11
"Et jævlig dumt valg"
(English: A really stupid choice)
35 min
December 11, 2015
Vilde reveals that she thinks she may be pregnant. William continues to flirt with Noora. Isak and Eva talk things out, and Eva decides to have a heart-to-heart conversation with Jonas.
Timeline
See Season 1/Timeline for the full timeline for this season
Season 1 spanned from October 22, 2015 until December 11, 2015.
Media
Images
Video
Music
| Song | Artist | Scene |
| --- | --- | --- |
| Music To Watch Boys To | Lana Del Rey | Jonas kisses Eva goodbye. Eva is left in the schoolyard. Eva is at home and starts her howework. |
| Run | Elsa & Emilie | Jonas vitis Eva in her room. Eva is at the school and watches Pepsi Max buy tickets for the revue party |
| Je veux te voir | Yelle | Eva gets ready to go to the party |
| ÅRETS NRJ-RUSSELÅT | Tix & The Pøssy Project | Eva arrives at the party |
| Sjeiken 2015 | Tix & The Pøssy Project | Eva spots Ingrid at the party, and Eva tries to talk to her. |
| Closer | Lemaitre (feat Jennie A.) | Noora introduces herself to Eva |
| Think Twice | Ralph Myerz | Eva looks at the party for Chris. |
| Kulare Å Pule | A-laget | Credits |
| Song | Artist | Scene |
| --- | --- | --- |
| A World Alone | Lorde | Beginning of the episode |
| Good For You | Selena Gomez (feat. A$AP Rocky) | Eva and Jonas are making out on the bed before Isak walks in |
| Everything in Its Right Place | Radiohead | Jonas, Eva and Isak on the rocks outside of the guitar, melting marshmellows |
| I'm Yours | Jason Mraz | Cover sung by Jonas and Isak. Jonas plays on the guitar. |
| Lose Yourself | Eminem | Cover rapped by Elias . Jonas plays on the guitar. Eva makes dinner and Isak sets the table |
| Berlin | Ry X | Eva is lying in bed. Eva notices Noora's accepted her friend request on Facebook. |
| Song | Artist | Scene |
| --- | --- | --- |
| Do you | Spoon | Intro to Hartvig Nissen scene - Eva enters the Spanish classroom and sees Noora |
| Make Some Noise | Beatie Boys | Credits song |
| Song | Artist | Scene |
| --- | --- | --- |
| Constantly hating | Young thug (feat Birdman) | The girls show Eva who William is. William walks through the schoolyard in slow motion |
| Dick in the Air | Peaches | The girl squad walking in slow motion to the party |
| Ganjaman | Alfons | The girls arrive at the party at Borkis' house |
| The Hemingway | Ganic (feat Johnny Whitehouse) | Party-scene - Noora takes a phone call, and Chris goes to sit with Eva |
| CoCo (coucheron remix) | O.T. Genasis | Party-scene - Eva is talking to Chris, Sana gets into a fight with the Pepsi Max girls |
| Song | Artist | Scene |
| --- | --- | --- |
| Can't Feel My Face | The Weeknd | Intro to Hartvig Nissen scene - Eva and Jonas making out at school. Noora interrupts them to take Eva to Vilde's school doctor appointment |
| Back to the Ordinary | Kid Astray | The girls are in Eva's bedroom |
| Close Up | Peaches (feat Kim Gordon) | Jonas cancels dinner because he has to help his mom (+ credits) |
| Song | Artist | Scene |
| --- | --- | --- |
| Insane In The Brain | Cypress Hill | Sana and Chris in the school yard on the hooverboards |
| I Fink U Freeky | Die Antwoord | Party-scene |
| 5 Fine Frøkner | Gabrielle | Song at the party in the background as Eva sits down on the bed crying |
| Breakfast | Le Le | Party scene - Eva talks to Ingrid |
| Touch It | Monifah | Eva sees Vilde watching William and Sara. Eva leaves the party. |
| Varðeldur | Sigur Rós | Eva walks home. |
| Yfirborð | Sigur Rós | Credits song |
| Song | Artist | Scene |
| --- | --- | --- |
| Shame On a Nigga | Wu-Tang Clan | Eva watches Jonas at the skatepark |
| Strong | London Grammar | Jonas and Eva talking in bed |
| Bossy | Kelis (feat Too $hort) | William tells Vilde she is not good enough, Noora steps in and tears William down. |
| Baby's On Fire | Die Antwoord | Iben hits Eva and a fight starts in the schoolyard |
| Song | Artist | Scene |
| --- | --- | --- |
| Hide and Seek | Imogen Heap | Eva walks onto the school yard and sees Jonas with Elias and Isak |
| Baby | Justin Bieber | Noora tries to cheer up Eva. William approaches in the background |
| Lett Å Være Rebell I Kjellerleiligheten Din | Karpe Diem | The song in William's car when he drives away |
| Lover, Where Do You Live? | Highasaskite | Eva at the skatepark |
| Song | Artist | Scene |
| --- | --- | --- |
| Fire Water Burn | Bloodhound Gang | Eva in the schoolyard, before she approaches the RAD girls |
| Abandon Window | Jon Hopkins | Eva confronts Ingrid |
| In Your Face | Die Antwoord | Eva finds out the truth |
| Song | Artist | Scene |
| --- | --- | --- |
| Run Boy Run | Woodkid | Eva walks to Isak's house to confront him |
| Get Ur Freak On (LP version) | Missy Elliot | Party scene - Every one is sitting in the living room at Iben's party |
| Hvite Menn Som Pusher 50 | Karpe Diem | Isak walks into the party |
| Lett Å Være Rebell I Kjellerleiligheten Din | Karpe Diem | Eva and Isak talk in the kitchen |
| Delilig Er Jorden | Oslo Gospel Choir | The girls carry an unconscious Vilde out of the party to Eva's house |
| Billie Jean | Michael Jackson | Credits song |
| Song | Artist | Scene |
| --- | --- | --- |
| Et Juleevangelium | Klovner I Kamp | Noora is cooking breakfast. Chris is juggling eggs. |
| Hello Lover | Empires | William runs into Noora. |
| Teardrop | Massive Attack | End of Eva and Isak's talk. Eva walks and spots Jonas. |
| Take Me to Church | Hozier | Eva and Jonas talk and have break-up sex |
| O Come All Ye Faithful | Art Garfunkel | Ending scene |
| Gay Bar | Electric Six | Credits song |
Production and Development
Notes and Trivia
References